We can all agree that a swampy pair of leggings after workout ruins the post-workout experience. It is a fact that not all functional wear is created inequality. In our world, it is mostly through trial and error that we get leggings that will wick moisture after the working out.
This is why you have us. We have done our research and have come up with these leggings that will keep you dry and comfortable no matter how hard you sweat. So without taking much of your time, here is our 5 best sweat proof working out leggings that will leave you feeling cool after a workout.
The 5 Best Sweatproof Workout Leggings for Sweating 2020:
Looking for the perfect fit that will help you achieve your A-game in fitness? Under Armour Women's Fly by Leggings has got everything you need to improve your movements during intense exercises like running.
The smooth fabric and flatlock seams of these leggings help to reduce friction between your laps. Its compressive fit will make it flattering to your body shape, while you'll also feel comfortable all through your workout session.
Its breathable fabric helps to wick sweat and regulate body temperature. So, no matter the weather or time of the year, you feel light, dry, and refreshed. However, even though the material is breathable, it is not transparent as it delivers full coverage. This guarantees that your underwear will not be visible while you're stretching or squatting.
That's not all. It is also designed with anti-microbial technology to keep your sweat-proof leggings fresh for a longer period.
If you also love to listen to music while working out, Under Armour's design team had you in mind. It features a zippered pocket where you can keep your phone, and a tiny hole to insert your headphones. The aesthetic of this pair of leggings makes it a fun experience for music and fitness lovers.
However, the wide and flat waistband of these leggings isn't so firm, making it sag around the waist during physical activities.
Pros
        Skin-friendly and very comfortable

        Lightweight fabric and dries very fast

        The fabric wicks sweat

        Ergonomically designed

        Has anti-microbial technology
Cons
        The side pocket adds extra weight and makes the fitting by the right leg feel uncomfortably tight

        The leggings don't stay put around the waist and hips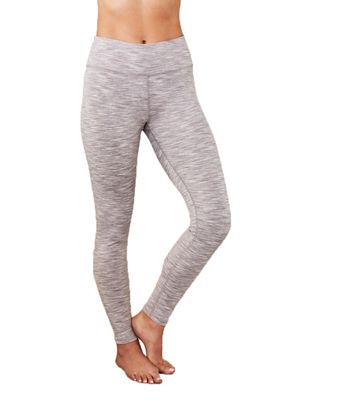 It's no easy feat to find sweat-proof workout leggings that's as comfortable as the Manduka Women's Essential Leggings. When you rock this pair of leggings, you'd notice that every pose or movement is much easier. This is all thanks to its super soft and light fabric.
What's even more exciting about this gym pants is that the polyester fabric is partly sourced from recycled plastic water bottles. This makes it an innovative design that helps in promoting environmental sustainability.
If you're looking for comfortable gym wear, you don't need to make any compromise. The material of these yoga leggings is very breathable and wicks out moisture effectively. Regardless of the intensity of the exercise, you won't see any sweat spot on this pair of leggings. This design almost feels like cotton to the touch and it doesn't shrink or lose its shape after wash.
The waistband offers great support, ensuring it sits very well around your waistline. Not only that. It features a contoured waist that provides adequate coverage, giving you the courage to move with confidence. It also features two side pockets around the waistband that comes in handy to store items like keys, cash, phone or cards.
Essential Leggings has a matte feel, which makes it easy to switch your look from workout mode to a quick outing. Since it is sweat-proof and it has no flamboyant features, you can easily combine almost any item in your closet. However, given the mild dampness that is common among matte-finished leggings after a very sweaty workout, it is advisable to have a quick change before your next meet-up or activity.
Pros
Wide waistband for full coverage

Contoured waist with built-in media side pockets

Supportive fabric moves with you

Double-layer gusset
Cons
        Matte-like leggings have a mild dampness
The Under Armour Women's Mirror StudioLux Seamed Leggings is a must-have for all fitness lovers. These wonderful seamed leggings help provide the support that will enhance your athletic activities.  Produced with the Armour's unique transport system, sweat is wicked at a very fast rate to the outer part of the leggings, leaving you with a dry and light feel.
The super-soft and stretchy feel improves mobility whilst still maintaining the wearer's shape. The advanced seam placement reduces chafing, skin irritation as well as eliminating pressure points, meaning you can keep working out without any form of discomfort.
These amazing workout leggings also have anti-microbial technology incorporated into them. This helps prevent the growth of odor-causing microbes which simultaneously helps you to feel fresh and confident.
It also features a wide and high-rise waistband that delivers more support and coverage where you need it the most. A back pocket is also designed in it where you can store your personal items like phones.
Pros
UA Signature Moisture Transport System – Wicks sweat and moisture away from the skin.

Stretchy Construction – Moves better in every direction.

Advanced Seam Placement – Eliminates pressure points and reduces chafing and skin irritation.

Anti-Microbial Technology – Prevents the growth of odor-causing microbes.

High Rise Waist – Flattering and supportive.

Fitted
Cons
Having premium-quality leggings is every lady's wish. A lot of women find it challenging to do sports because of their sweating capacity. There is no need to worry as The HAIVIDO Women's Yoga Pant will do the trick. It is one of the best sweat proof workout leggings out there. It is a moisture-wicking fabric
It is a moisture-wicking fabric that provides the utmost comfort during your workout, leaving you with no sweat patches on your leggings. Made with quality material, it ranks among making one of the best non-see-through workout leggings. Its unique design has a pocket that allows you to keep small belongings like phones.
This workout sweatproof pant is perfectly breathable allowing you to feel fresh and dry all times. The HAIVIDO Women's Yoga pant is not only perfect for workouts but can also be worn during other occasions where you just want to relax. Another beautiful feature is its bottom meshed design giving it that stylish look that is ideal for any outdoor activity.
Pros
It is stylish, and you can wear during workouts or when out and about or on the move.

It has a wide waistband to provide comfort to all women.

It has a unique design. It is meshed at the thighs that make it breathable during a workout, leaving you super fresh and dry.

It is a non-see through fabric.

They have pockets, making these leggings perfect especially when carrying your phone with you.

It is made of high-quality materials. The fabric is thick to provide warmth during the cold seasons.
Cons
The waistband is bigger, leaving out slim users who need small waistbands to fit perfectly.
These are one of the most comfortable leggings you'll ever see. They have a soft feel with a little more heft meaning they are not see-through whatsoever. They're honestly snuggly, and stretchy which makes them perfect for actual yoga workouts thanks to a high-rise waist that doesn't come down no matter how low you bend or twist.
The Women's Beyond Yoga Legging does a good job keeping you dry and comfortable no matter your pose. Made with Quick-drying polyester, it is a performance fabric that helps to wick away your sweat while you work out your position.
In addition to being a wonderful fit for workout sessions, this cozy legging is perfect for wearing around your home. 
Pros
These workout leggings have comfortable seams.

A high waistband that reaches the belly button.

These pants have decent compression.

They have a perfect fit.

They dry quickly after workout sessions
Cons
They are not machine washable
Buying Guide
A lot of leggings manufacturers claim that their workout leggings are sweat-proof or that they are the best on the market. As a fitness enthusiast looking to make the best buying decision, how can you select the best pair of leggings among the numerous gym pants for women? Check out some of the factors to consider in making your buying process easier.
If you're looking for sweat-proof workout leggings, breathability should be one of the most important things to consider. To ensure you don't drown in your sweat, lookout for a pair of leggings that allow the optimal inflow of air. When you invest in breathable leggings, you'd experience better comfort and also reduce heat buildup.
Another thing to look out for before making a purchase is the type and quality of the material. Is it light or thick? Is it stretchy? Would it pick up lint? To get great value for your money, buy a pair that is light and won't weigh you down when you're exercising. However, this doesn't mean you should compromise on quality.
Also, you should note that most quality yoga pants combine both polyester and spandex fabric. This makes stretches, bends and other movement types very easy. It also feels comfortable and cozy on the skin.
This type of fabric also dries up very fast, making it easy to wash and prepare for another day.
·        
Non-slip Waistband
To get the best out of your workout sessions, the waistband of your leggings should fit snugly. This ensures that the pants don't get in the way of your workout sessions. Asides that, non-slip yoga leggings prevents an embarrassing event like your leggings sagging or slipping off your waist during your workout session.
If available, you should either choose a pair that features elastic high waistband or a pair with drawstrings. Either of one these features will deliver better grip and comfort.
Related Guides: